Cadillac Service Menu

From routine maintenance to extensive service, it's only natural that you'd demand nothing but the best for your Cadillac vehicle. Fortunately, our team of service experts at Germain Cadillac of Easton understands this and is standing by to help. Whether you're searching for maintenance, service, or repairs — your vehicle will receive expert care from our GM factory-certified technicians. They have the best knowledge and expertise in the industry along with access to state-of-the-art tools and diagnostic equipment.
Better still, we're proud to service all GM makes and models including Chevrolet, Buick, and GMC. Even if you don't own a GM vehicle — we can service your car too! We carry an extensive range of Genuine GM Parts and replacement components designed for an exact fit on your vehicle. While you're here, relax and unwind in our luxurious service lounge and take advantage of several complimentary refreshments. Or if you prefer, we have a selection of Cadillac Courtesy Vehicles and an available On-Demand Vehicle Concierge Service to help you get where you need to be. Below you'll find our service menu which lists some of our most common services in addition to our competitive pricing. You can count on Germain Cadillac of Easton for all of your service or repair needs.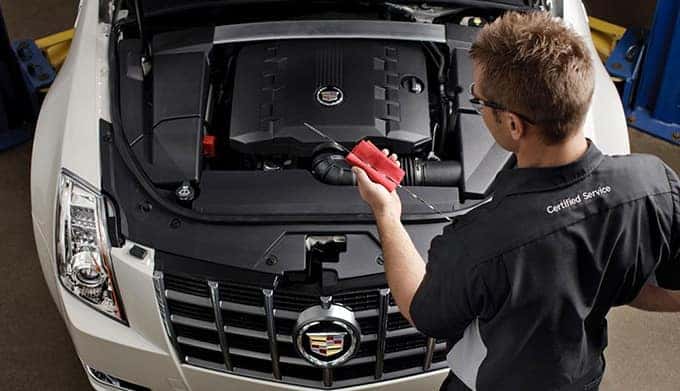 Cadillac Service Menu
Service

Starting At:

Includes

Oil Change and Tire Rotation Service
Everyday Low Price $79.95 – Includes up to 6 quarts of Full Synthetic Oil

One of our GM Certified Technicians will remove and replace oil and oil filter with new OEM Parts and fill them with 6 quarts of OEM recommended oil. Perform tire rotation, inspect tread depth, top off open system fluids, fill tires, and reset tire pressure monitors.
Perform World-Class Multi-Point Inspection

Oil Change and Tire Rotation Service
Everyday Low Price $89.95 – Includes up to 8 quarts of Full Synthetic Oil

One of our GM Certified Technicians will remove and replace oil and oil filter with new OEM Parts and fill them with 8 quarts of OEM recommended oil. Perform tire rotation, inspect tread depth, top off open system fluids, fill tires and reset tire pressure monitors.
Perform World-Class Multi-Point Inspection

Fuel System Treatment Service and Throttle Body Cleaning
$199.95

One of our GM Certified Technicians will perform a 3-Step Fuel Injector and Throttle Body Cleaning Service intended for preventive maintenance, improved performance, and extended mileage. Cleans gum, varnish, and harsh deposits within the fuel lines, valves, injectors, and throttle body.
Recommended every 24 Months or 30,000 Miles.

Radiator/Coolant System Fluid Exchange
$149.95

One of our GM Certified Technicians will safely and efficiently remove old, dirty, and contaminated coolant then replenish the system with new OEM recommended fluid. After service, they will test the system, inspect for leaks, and verify proper operation upon completion.
Manufacturer Recommended every 48 Months or 60,000 Miles.

Brake Fluid Exchange
$139.95

One of our GM Certified Technicians will perform a pressure-assisted brake fluid system bleeding to safely and efficiently remove old, dirty, and contaminated fluid. Replenish system with new OEM recommended fluid. After service, they will test the system, inspect for leaks, verify proper operation upon completion, and road test the vehicle.
Manufacturer Recommended every 24 months or 30,000 Miles.

Power Steering Fluid Exchange
$169.95

One of our GM Certified Technicians will remove old, dirty, and contaminated power steering fluid and fill it with new OEM fluid. Inspect for leaks, verify proper operation upon completion, and road test vehicle.
Manufacturer Recommended every 24 Months or 30,000 Miles.

4 Wheel Balance and Free Tire Rotation
$94.95

Balance tires, inspect rims for integrity issues, and road-test vehicle
Recommended Every 12-24 Months or 15,000-30,000 Miles

Annual Alignment
$139.95

Perform computerized 4-wheel alignment and inspect suspension components. Perform road test and quality check.
Recommended Every 12-24 Months or 15,000-30,000 Miles

Alignment (online special)
$99.95 with Purchase of 4 tires. (Expires 04/01/2021)

Perform computerized 4-wheel alignment and inspect suspension components. Perform road test and quality check.
Recommended Every 12-24 Months or 15,000-30,000 Miles

Perform Rear Differential Fluid System Exchange
$154.95

One of our GM Certified Technicians will safely and efficiently remove old, dirty, and contaminated fluid, then replenish the system with new OEM recommended fluid. Inspect system for leaks and road test vehicle.
Manufacturer recommended every 36 Months or 45,000 Miles

Winter Service Special
$284.95 for 6 Qt vehicles/ $294.95 for 8 quart vehicles

Oil change
Tire rotation
Wheel balance
Radiator coolant flush.
Top off open system fluids, including wiper fluid
Adjust Tire pressure and check tread life
Free car wash and multi-point inspection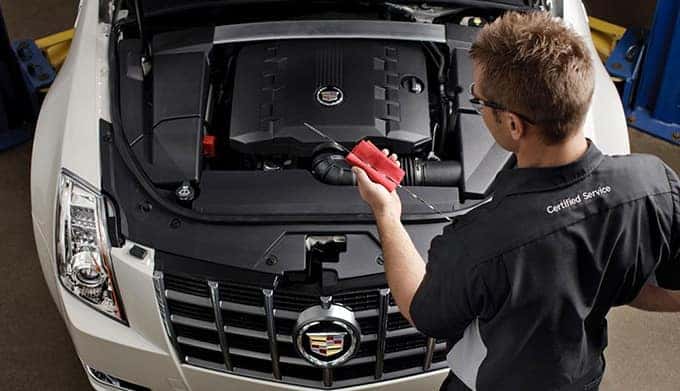 Cadillac Service Menu
| Service | Starting At: |
| --- | --- |
| Oil Change and Tire Rotation Service | Everyday Low Price $79.95 – Includes up to 6 quarts of Full Synthetic Oil |
| Oil Change and Tire Rotation Service | Everyday Low Price $89.95 – Includes up to 8 quarts of Full Synthetic Oil |
| Fuel System Treatment Service and Throttle Body Cleaning | $199.95 |
| Radiator/Coolant System Fluid Exchange | $149.95 |
| Brake Fluid Exchange | $139.95 |
| Power Steering Fluid Exchange | $169.95 |
| 4 Wheel Balance and Free Tire Rotation | $94.95 |
| Annual Alignment | $139.95 |
| Alignment (online special) | $99.95 with Purchase of 4 tires. (Expires 04/01/2021) |
| Perform Rear Differential Fluid System Exchange | $154.95 |
| Winter Service Special | $284.95 for 6 Qt vehicles/ $294.95 for 8 quart vehicles |